PEDAL FOR PEDS - CELEBRATING OUR 10TH ANNIVERSARY 9/28/2019!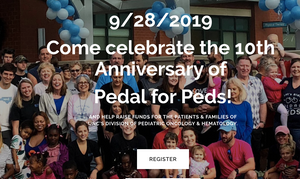 One of the most important parts of Books That Heal's mission is to connect with organizations that support children and families fighting chronic illnesses.  We've been so fortunate to get to know and work with people who literally save lives and help families in their time of greatest need. 
I had a wonderful opportunity recently to speak with Julie Blatt, medical doctor, founder and passionate supporter of Pedal for Peds, a 501(c)(3) based out of the University of North Carolina (UNC).  Julie Blatt is a doctor that is part of UNC Lineberger a division of UNC Hospitals that specializes in the diagnosis, treatment and management of hematological disorders and malignancies in children and adolescents. They also offer bone marrow transplantation through their combined adult-pediatric bone marrow transplantation program. They maintain comprehensive clinics in hemophilia and bleeding disorders, oncology, sickle cell disease, general hematology, brain tumors and long-term follow-up.
We first got to know Julie through Nathan Grogan, the author of Nathan Strong, who at 4 years old was diagnosed with kidney cancer. Throughout chemotherapy at UNC Hospitals, surgery, and radiation Nathan managed to smile, amuse his medical staff with math and periodic table songs, and sing his favorite hymns. Now in remission, he loves math, sports, and spending time with family, friends, and his dog, Rosie.
ABOUT PEDAL FOR PEDS - UNC
Julie shares "For the past ten years, Pedal for Peds (http://pedalforpeds.com/home)  has helped patient families as they cope with the life-changing effects of a cancer diagnosis.  Pedal for Peds provides support in the form of groceries, meals, gas cards and other essentials needed by the family to make their frequent stays at UNC a little easier. As the Pedal for Peds initiative has grown, the program has been able to expand to help support a number of fellowship positions for the Division of Pediatric Hematology Oncology." 
THE BEGINNING
A number of years ago, Julie and others at UNC realized that many of the patient families they served needed assistance with expenses that aren't covered by insurance. Julie shares "these are things you don't typically think of but are part of dealing with a cancer diagnosis including  parking, gas and extra meals for when you're away from home. None of this is covered and it can become a burden on families already struggling to figure out what to do next."
To meet these needs, Julie and the UNC team created Pedal for Peds, a one day annual event that includes a bike ride, stationary bikes, a walk-a-thon as well as yoga and childrens' activities at the event.  Julie shares "Pedal for Peds has become a day of celebration where past and present patients are honored with balloon releases and now a pinwheel garden as well as a bake sale and raffle. Together we raise funds to help families and carry on the fight against pediatric cancer."  
This year, the UNC Division of Pediatric Hematology Oncology is excited to present its 10th and Final Pedal for Peds event which will take place on Saturday September 28th, 2019, at the UNC Wellness Center Northwest Cary, located at 350 Stonecroft Lane, Cary, NC 27519 USA.
You can ride 7, 10 or up to 50 miles on the beautiful American Tobacco Trail. Participants are welcome to ride all or part of the route. 100% of all proceeds raised by this event will be used to support our mission to care for and cure all children with cancer and blood disorders in the state of North Carolina.
Pedal for Peds is dedicated to raising awareness of childhood cancers, blood diseases, and raises funds to support research that will improve patient outcomes. Pedal for Peds works to inspire hope for the community of the pediatric patients served at UNC hospitals, their families, friends, caregivers and other supporters, while celebrating their courage, spirit and energy.
OUR IMPACT
Julie shares "as Pedal for Peds has grown, we have expanded to other areas of impact. In addition to raising funds for incidental expenses, Pedal for Pads raises funds for a Fellowship Education Program and research.  Each year, two new Fellows are selected and are able to pursue a subspecialty in pediatric oncology and rheumatology. Pedal for Peds pays for the Fellows' review boards and any additional expenses they may need help with.
A MESSAGE FOR ALL FAMILIES
While there are many excellent organizations in the fight against pediatric cancer,  most organizations do not use the money raised in the state and rarely helps families in that state.  This is one of the most important differences with Pedal for Peds; all funds go to support families in the state and ones that go to UNC for care. 
If you would like information on how to get your organization involved, please check out the Sponsorship Levels Guide. Then, when ready, you may contact Julie Blatt, M.D., Division of Pediatric Hematology Oncology at jblat@med.unc.edu or 919.966.0590 to secure your sponsorship slot for this year's event. 
All donations are tax deductible and if you are interested in giving please go to the Pedalforpeds.com website for more information.