Forever Logan Strong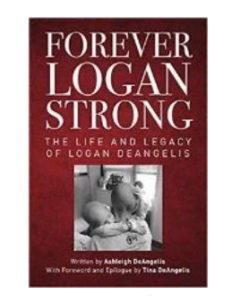 Diagnosed with Glioblastoma, brain cancer, on August 17th 2013, Logan DeAngelis, just a teenager heroically lived and valiantly fought for twenty-one months, passing away on May 20th 2015. 
Published in May 2019, "Forever Logan Strong" is a new Books That Heal book written by Ashleigh DeAngelis, Logan's older sister, and tells of the life and extraordinary legacy of her brother; how he remained positive, smiling and giving his trademark thumbs up in spite of months of surgeries, chemo and radiation.  Through his perseverance, bravery and fight, Logan lifted up all who knew him.
I had the privilege to speak with Tina DeAngelis, Logan's mother, an extraordinary mom who with Ashleigh, created the Forever Logan Strong Foundation (https://foreverloganstrong.org/), turning tragedy into hope, inspiration and support for other families facing the battle of their lives.  
THE DIAGNOSIS
Unaware of the cause, Logan began experiencing side and back pain and other symptoms as early as February 2013. From February until August, in spite of trips to the doctor, body scans and x-rays, nothing provided a glimpse of what was happening.  That was until they saw an Orthopedist and got an MRI which was when they could first see that something was wrong. Immediately, they were sent to the Childrens' Hospital of Philadelphia (CHOP) and it's there that their entire world changed.
Tina shares "On August 17th, 2013 after 8 months of searching for answers, Logan was diagnosed with Glioblastoma, brain cancer, and it was Stage 4.  In a matter of seconds, our entire world turned upside down. A few days later Logan was admitted for surgery and from there, he was given only six to nine months to live."  
When they got home, they were all in shock. Tina shares "we lived everyday like he wasn't sick. Logan lived another seventeen months.  He got around, he went fishing, hunting and he did Make-A-Wish. We didn't know how long he had so we did everything we could with him."
MAKING THE MOST OF EACH DAY
For the next year, their lives revolved around Logan because they knew that each day was a gift.  Their entire community rallied around the family and did a fundraiser so they could do all the extra little things with Logan whether it was hunting or fishing or going to an Eagles football game. 
By December of 2014, there was nothing more the doctors could do because patients didn't typically make it that long. Within a few months, the tumor started to grow and by February 2015, it was growing aggressively and there was no stopping it. By March, Logan was having difficulty walking and talking and by May he was readmitted to CHOP.   On the 20th of that month, after a heroic fight, Logan succumbed to cancer but his story doesn't end there. 
A SISTER'S LOVE
As anyone who's experienced cancer knows, your family fights by your side.  Tina shares that "Logan's sister, Ashleigh, was just 17 when Logan was diagnosed. He had to stay home for a year because of chemotherapy and Ashleigh decided to get home schooled for her senior year of high school and help care for him. She quit playing soccer so she could be by his side. Ashleigh even took classes at CHOP to learn how to care for Logan. In many ways, Ashleigh became Logan's nurse."
Throughout their time together, Ashleigh took pictures; she shared updates on Logan (https://www.facebook.com/logan.deangelis.71) and promised Logan that his name would never be forgotten. Ashleigh would go on to study nursing and this year graduated with her LPN (Licensed Practical Nurse) degree. 
After his death, Ashleigh created Forever Logan Strong, a 501(c)(3) in memory of Logan. Its mission is to provide support to families who have a child with Brain Cancer.  Through fundraisers, they find ways to help families whether it's getting a bill paid, money for food during chemo days, gas cards or a gift for your little fighter.  Forever Logan Strong is there to help in any way they can and is dedicated to families going through what they experienced.  Tina shares "It's so hard to watch other families; we can't turn our backs on anyone.  Even though we know the outcome, we know what they are going through and want to do all we can to help."
FOREVER LOGAN STRONG AND BOOKS THAT HEAL
After learning about Books That Heal, Forever Logan Strong was published in May 2019. Tina shares "Logan taught us so much in his short time with us.  He taught us what love and respect is. He taught us to cherish every moment. He taught us that in life there are so many things that can be fixed and not to stress too much about these because there are things like cancer that can't be fixed. You have no control."
Tina and her family's loss is a tragedy but what's so extraordinary is that you don't hear it in Tina's voice.  In place of sorrow is hope, a sense of deep gratitude and an understanding that her experience has totally changed her outlook on life.  Tina says "we talk about Logan every day. Everywhere we go and everything we do, there is a reminder. We know he is not here but that doesn't mean he can't exist."
Logan and the entire DeAngelis family are very much a part of the Books That Heal family.  We thank Tina for sharing their journey, sharing her inspiration and for the continued dedication and support for  families facing pediatric cancer.